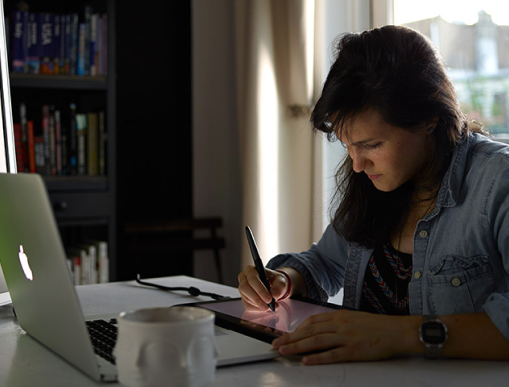 Erica Gorochow
Brooklyn, NY, USA
Erica found her way into design through studying film at Northwestern University in Chicago, where she became inspired by early experimental filmmakers like Oskar Fischinger and Norman McLaren. After graduating, a state department funded fellowship brought her to live in Germany, where she continued her studies at the Köln International School of Design.
She's spent the vast majority of the last 15 years as an independent director and designer. In that time, her work has spanned entertainment, journalism, interactive, advertising and brand strategy.
In 2015 she was chosen as an inaugural member of the New Museum's incubator program, New Inc. There she created a mobile game called Specimen, which was featured as a "Best New Game" and "Game of the Month" by Apple's app store. The project's academic epilogue was recently profiled by WiredUK.
In 2018 she directed the early visual development of Netflix's show "Patriot Act with Hasan Minhaj." Working closely with Mihnaj, the showrunner and the EPs, her focus was to explore how to design for the show's unique stage design to best translate the show's writing into a cohesive, visual language. The output was a massive style guide that established the bold look for the show's 40 episode run. The series went on to win an Emmy for Outstanding Motion Design in 2019.
Erica's other recent clients include MoMA, the Obama Foundation, Protozoa Pictures and The New York Times. Her work has been recognized by Fast Company's Innovation by Design Awards, the Bass Awards, Vimeo Festival and Vimeo Staff Picks. She has previously written about motion design for Vice and Motionographer and has taught animation at NYU at the graduate level. If you run into her on the streets of Brooklyn, she apologizes in advance for asking to pet your dog.
Read More